The latest from RoyCochran.com & ThirdChair Ministries
Well it has been a FULL Summer for the Cochran's and for ThirdChair ministries. We are brimming over with excitement and anticipation for all Father is stirring our hearts with, for the invitations we are receiving and for the doors God is opening up for us.
Our next steps include a ministry trip to England, announcing dates for our Artist's Table Gatherings, announcing dates for some ThirdChair House Party's, some exciting partnerships with a Recording Studio and funding platforms for artists.
We are also discovering more and more people, like many of you, who are called to walk along side of us with their time, with their contacts and with their support in this adventure of saturating the earth with hope through the creativity of artists experiencing the love of God.
Perhaps YOU are the next person we will discover who wants to join us in setting a table, opening doors and connecting artists to their hearts and destinies through ThirdChair ministries. Let's have coffee and talk about it. roy@roycochran.com.
Trip to England via Flagstaff
David's Tent, The Love of the Father & Cirque du Soleil
We will be leaving for Arizona on Tuesday Aug 23rd for Connor and he will move in on Thursday morning. That same Thursday afternoon after we move him into his dorm, I will be leaving out of Phoenix for England to be part of David's Tent, serving in any capacity they might need "me to be me" for the event and the artists. I also will have 2 days to connect with an artists friend and do some writing/planning for a new production that will be a Cirque du Soleil style production with amazing orchestral pop music that will hope to tell a story (without words) of the Revelation of the Love of the Father. Talks are currently taking place for the show to be seen Internationally. Currently there are invitations from 5 countries for 6-8 week runs 5 days a week. Crazy right? And I hope to connect with our friend Simon form Father Heart ministries while I'm there. My trip will be a little more than a week wrapping back up in Phoenix for a meeting and then home.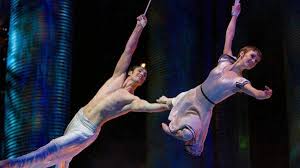 We had another financial surprise as I really had not planned on going to England as all our resources are so far extended just getting Connor off to College but a long time friend who I sat next to at a Red Seal last Tuesday evening asked if I was heading off to England out of the blue. I said, "no, not really planning on it with all the expenses of college, etc." He says, "I think you are supposed to go so how much do you need?" SO …. that's how this trip came to pass. And like our trip to Armenia, we are also sensing that Christine might supposed to be on this trip. We currently have no way for that to happen but, my amazing wife has already packed a bag anticipating an 11th hour provision by Father. We have not seen that provision . . . yet, but invite you to join us in praying into this adventure possibility with us.
What impossible possibilities are stirring around in your hearts that your head has talked you out of? Please let us join you in asking Father to speak into these stirrings and to take a actionable step of faith towards those things in He may have placed into your heart. It's what Love would look like, right? To encourage each other more and more for the impossible things of the kingdom. Let's stir one another up to be a group of sons & daughters who actually care enough about one another's dreams to DO something about it.
An interesting observation I've come to notice is how much time and energy I tend to spend TALKING ABOUT GOD, ABOUT THE CHURCH, ABOUT THE ARTS, when all the while my heart genuinely desires for those I'm communicating with to EXPERIENCE GOD LOVING THEM, EXPERIENCE THE CHURCH LOVING THEM, EXPERIENCE THE ARTS BRINGING BEAUTY AND TRUTH AND WONDER to their lives. I'm challenged by this personally. How little time we seem to invest in helping one another DO and STEP INTO what and WHO we are talking about. We believe this current "prompting" is from God so one of the ways we are responding to Him with what we are calling Third Chair House Shows. These House Shows will be a place, a venue, an environment in which we will allow ARTISTS to BE ARTISTS and share their artistry with us and our friends. A place where WHAT IS IN THEIR HEARTS can come through their artistry. The type of Artist or Artists will determine what KIND of HOUSE SHOW it will be. Because of our relationships with such a diversity of artists, we are going to be able to present a wonderful palate of different LIFE-GIVING evenings.
For instance, we are speaking with UNITED PURSUIT about an evening of worship. We are speaking with artists about an Immersive evening of LIGHT and SOUND. We have some artists who are bringing the overflow of God loving them into mainstream Indi-Pop Music. Where can you bring your relationships who currently have a different spiritual outlook or social value than you do? When Jesus met Zacchaeus, a person far from ever believing the kingdom of heaven was at hand FOR HIM, Jesus went to Zacchaeus's house party. Where can we bring the Zacchaeus' of our life where they can encounter the love of Jesus in a setting they are comfortable with? Jesus could have invited him to his "stadium event" or to "the weekend service" He was speaking at but instead Jesus entered into Zacchaeus' environment. Jesus just being Jesus was a light they probably never expected to encounter at Zac's party.
We belive that when these artist's hearts are filled and overflowing with the love of Jesus and the love of the Father and are empowered by the Holy Spirit, an evening of Indi-Pop music and storytelling can be the most life changing , anointed environment ANYONE can experience. It's not a bait & switch strategy. It's a belief that beauty has power. It's a hope that artistry can open eyes to see more. It's a truth that the One we call God is an Artist. A discovery that Holy Spirit anoints all kinds of artistic expression, not just worship songs. It's an understanding that people have a capacity for mystery and that in the midst of a song, in the middle of a story, while gazing at a work of art coming to life, that God can speak to ANYONE's heart and they can experience Him loving them.
Third Chair House Shows presents:
Indi-Pop Artist Eles Theissen
On Tour from Canada
Friday Night, September 23rd - 7pm • The Cochran House 4985 Via Marta, Carlsbad, CA 92008
We INVITE you and your friends to an up close and personal evening of music, storytelling, enjoyment and inspiration with Eles at our house. Feel free to bring you favorite beverage of choice to enjoy during the evening.
I would describe Eles' music as kind of a cross between Jason Mraz & John Mayer. Here's one of his music reviews .... "Honest and courageous songwriters, the ones that touch our hearts, have always had the ability to bear witness to the darkest corners of their souls and still inspire and uplift us. Elessar's newest full length album "A Rainy Week in Paradise" exposes us to longing, angst and agony, fear and shattered confidence, and yet comes through it all with hope and joy, rooted in love, truth and deep faith."
Come on out! Bring a friend. Feed your Soul. Stir your creativity. Enjoy and support ARTISTS. Eles will be making his recorded music available for sale that evening. There is no charge for this event but may we suggest a $10 donation to support the evening.
Trevor: Trevor has been home from his travels abroad. Four months in Nepal and 6 weeks traveling through much of Western Europe is a life changer for a 20 year old young man. Trevor is living back in Carlsbad and working at a local coffee house. I'd say he's still processing his trip and all his heart encountered along the way. He is exploring fresh ways to encounter God in experimental worship environments. He is committed to grow in his musical vocabulary. He continues to press forward in his film making and developing some clients who need video help in telling their story for both web-sites, social media and crowdfunding. He is also working with promoting the Motion Picture "Restored Me". Trevor's style and "way" will always be left of mainstream in his pursuit of a fully alive adventuresome life of knowing God loving him just as he is.
Connor: Connor is in his first year, actually his first MONTH of attending Northern Arizona University NAU. He's all moved into his dorm room and is adjusting to the pace of life as a full time student. Gone are the days of "Surf PE" at Carlsbad High (although he does have a rock climbing class) and so as Connor put's it, "Things got REAL!" His photography expertise has already been recognized as they jumped him into Photo 200 classes immediately. And through he will continue to pursue his gift as a photographer, Connor's major is in Business. Math not being among his favorite or easy subjects, Connor is pressing into this new challenge of academics. It's a pretty steep learning curve and he's had his initial "I'm outta here" freak outs (NORMAL). He is settling in and getting to work figuring out his new rhythm and life challenge.
Christine: Christine simply goes after 110% of living life! Consistently challenging the boys & I to really LIVE life vs just surviving. We both are adjusting to the idea that we are "empty nesters" although the nest has yet to be empty. We continue to have a steady flow of people coming in to stay with us, including Trevor from time to time. Christine has also started working at Sprouts fresh produce store as a cashier a couple of month's ago. It's a big change for her and for us. While she is an obvious light full of love in the store, it's simply hard work and a really different rhythm. Now, if you know Christine you know that she is probably the hardest worker you ever seen. She can crank! It's just a different kind of fatigue she is adjusting to. She continues to meet with ladies one on one and hosts LoveLooksLikeSomething at our home every Sunday evening. This new season as Third Chair continues to unfold for us and in us.
Sadie the Bernese Mountain Dog: Sadie continues to be a comfort and 150lbs of love at Chateau Cochran.
Donations
We invite you to prayerfully support this work of connecting artists to their hearts and destinies.
Become a monthly supporter. Our monthly supporters allow us to mentor artists weekly, cover our travel and curate artist gatherings.
Make a generous Single Gift to Third Chair. These generous single gifts have historically come at JUST THE RIGHT TIME to keep us going.
All donations must be received by the 25th of each month for them to reach us on the 1st.
Please make ALL DONATIONS from my website www.roycochran.com/donate and not through The Grove site.
We have made a few changes and it's best to simply give through our site. Thank you. Please call me if you experience ANY difficulties in giving to us.

contact me.